Bracket type aluminum anode
Bracket type aluminum anode has the advantages of small specific gravity, high specific strength, good seawater corrosion resistance, non-magnetic and good low temperature performance. Therefore, aluminum alloy has been widely used. With the increasing use of aluminum alloy in ships, the requirements for corrosion protection of aluminum alloy are becoming higher and higher.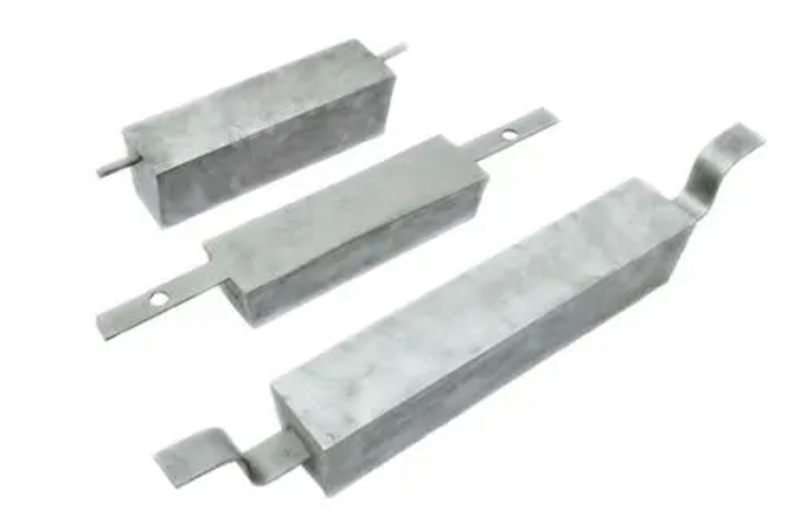 Bracket type aluminum anode
We all know that the density of aluminum alloy is relatively low, so aluminum alloy as a ship material can reduce the weight of the hull. The reduction of weight can improve the stability of the ship. Improve combat effectiveness. It is a very ideal material for some small submarines. With the development of aluminum alloy technology and the continuous reduction of production cost, the advantages of aluminum alloy materials and their application in marine environment are expanding.
Bracket type aluminum anode is applicable to the anti-corrosion protection of oil, gas and water supply and drainage pipelines in soil medium, as well as harbors, ships, reservoir gates and other projects in water medium.
Chalco is a new enterprise mainly engaged in the production, sales, scheme design, engineering construction and consulting of cathodic protection materials. The company has strong internal management and standardized operation, and has passed ISO9001 quality certification, such as "demonstration enterprise with double guarantee of quality and reputation" and "influential brand in anti-corrosion industry". The main products are: magnesium alloy sacrificial anode, aluminum alloy sacrificial anode, zinc alloy sacrificial anode, magnesium belt, zinc belt, prepackaged high silicon cast iron alloy sacrificial anode, precious metal oxide alloy sacrificial anode, deep well alloy sacrificial anode, insulating joint / flange, heat shrinkable belt / set, potentiostat, test pile, reference electrode, aluminothermic flux and cathodic protection supporting products, There are hundreds of specifications such as magnesium alloy rod and magnesium alloy deep processing.
Free offer of products, welcome to consult at any time, we will give the first reply.Our Email: