Magnesium anode rod in electric water heater
Electric water heaters have many advantages such as high efficiency, energy saving, convenient use, safety and reliability, so they are more and more popular with users in the market. It affects the normal heat dissipation of the electric heating tube and also aggravates the crevice corrosion under the scale after the crevice is formed. Therefore, it is very important to install anti-corrosion and descaling materials in the electric water heater. After the above problems are solved, its life can be extended by 2 to 3 times.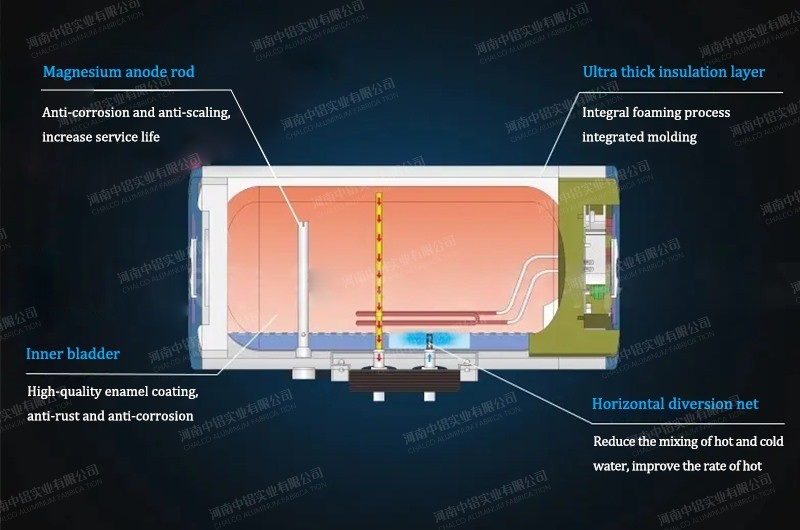 Magnesium anode rod used in electric water heater
The inner tank of the electric water heater adopts the sacrificial anode Magnesium anode rod protection cathode (inner tank) method, that is, after installing the Magnesium anode rod in the closed inner tank, because its potential is more negative than that of the inner tank material, it first The lost electrons are dissolved and form a current loop with the inner tank, which constitutes a large battery corrosion in water. The cathode current output by the Magnesium anode rod makes the inner tank polarized into a cathode and is protected, which effectively eliminates the harm of chloride ions in the water, thereby preventing the electrochemical corrosion of the inner tank.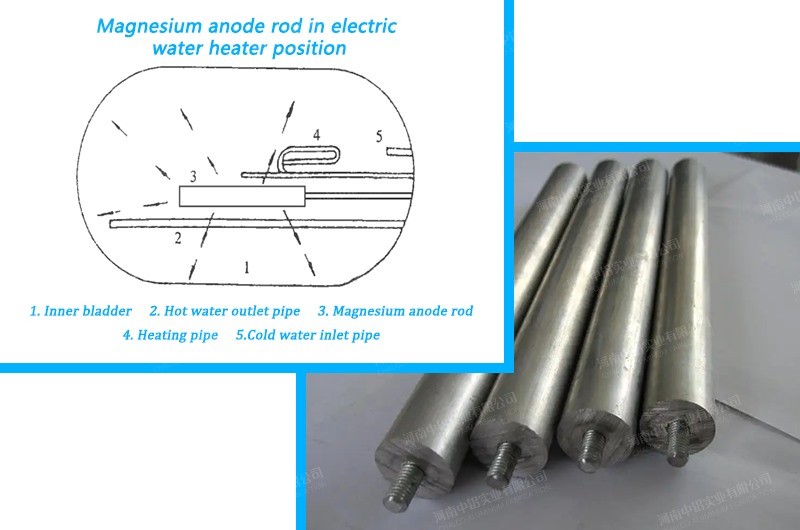 Magnesium anode rod in the position of electric water heater
Due to the potential difference between the Magnesium anode rod and the inner tank, the magnesium rod with a negative potential continuously loses electrons, and current flows into the inner tank, so that the protected inner tank (including the water inlet pipe and the water outlet pipe) is polarized into a cathode, thereby achieve the purpose of protection.
Through theoretical analysis and practice, it has been proved that the addition of magnesium anode rods to electric water heaters not only plays a role in anti-corrosion and descaling, but also because the corrosion products of magnesium are non-toxic, its application range is more and more extensive. According to a research result of the University of Gothenburg, Sweden surface
It is obvious that drinking hard water with high magnesium content can prevent myocardial infarction, and magnesium is easily absorbed by the human body.
Rinse, it is of great benefit to caring for the skin and enhancing the body's resistance. In conclusion, magnesium anodes are used in electric water heaters, whether it is
It is beneficial to the water heater itself and to human health.
Free offer of products, welcome to consult at any time, we will give the first reply.Our Email: