Mixing zinc and aluminum anodes
Mixing zinc and aluminum anodes are cast by alloying high-purity zinc, aluminum and cadmium. The product is recognized by China Classification Society (CCS), the quality standard conforms to GB / t4950-2002, and the chemical composition of zinc anode conforms to us mil-a-18001h and astm-b418 (type 1). The anode used for pipeline shall also comply with SY / t0019-97 code for design of sacrificial anode cathodic protection of buried steel pipeline.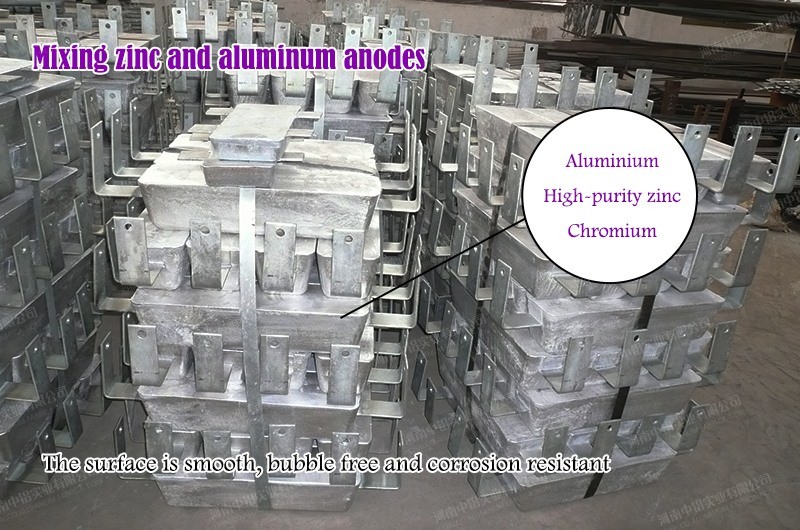 Mixing zinc and aluminum anodes
Due to the market relationship of zinc aluminum alloy, the price of zinc aluminum alloy has been relatively stable without large fluctuation. Extruded zinc aluminum alloy has the following advantages: good surface treatment effect, no pitting and bubbles in the finished parts, the surface finish is very similar to that of copper plated products, and there is no obvious corrosion after 48 hours of neutral salt spray test.
Specifications: 16KG, 22kg, 23kg, 35kg, 50kg, 85kg
Email: info@chalcoaluminum.com
Henan Chalco Aluminum Co., Ltd. is a company specializing in the development and production of magnesium alloy sacrificial anode, aluminum alloy sacrificial anode, zinc alloy sacrificial anode, magnesium strip, zinc strip, reference electrode, test pile, cathodic protection materials and magnesium alloy. A comprehensive scientific and technological enterprise integrating trade, it has a complete quality system, strong technical force, first-class testing means, and has a number of national scientific research institutions to develop non-ferrous alloy products.! The anode produced by our company ensures quality, preferential treatment and timely supply!!!
Free offer of products, welcome to consult at any time, we will give the first reply.Our Email: