Sacrificial anode for aluminum boats
Sacrificial anode for aluminum boats can prevent the corrosion of steel structures in seawater. Sacrificial anode for aluminum boats is widely used in the corrosion prevention of ship hull, pressurized water tank, seawater pipeline, port and wharf facilities, marine engineering, drilling platform, condenser and soil medium pipeline. Because aluminum anode usually plays a very important role in structure, aluminum alloy is basically used in common electrolyte.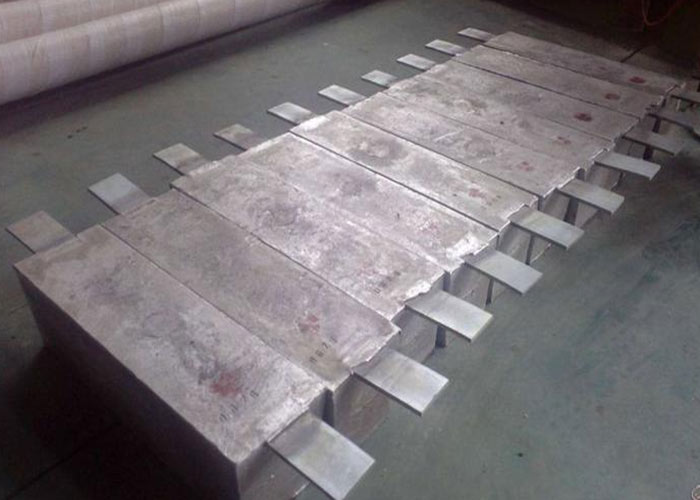 Sacrificial anode for aluminum boats
Specification for aluminum marine sacrificial anode
Product Name

model

Specifications/㎜

weight/ kg

A×B×C

Aluminum alloy sacrificial anode

AH-1

800×140×60

17.0

AH-2

800×140×50

15.0

AH-3

800×140×40

12.0

AH-4

600×120×50

10.0

AH-5

400×120×50

6.5

AH-6

500×100×40

5.5

AH-7

400×100×40

4.5

AH-8

300×100×40

3.5

AH-9

250×100×40

2.5

AH-10

180×70×35

1.2

AH-11

300×150×50

5.8

AH-12

300×150×40

4.6

AH-13

300×150×40

4.8
Why choose us
01 sacrificial anode manufacturing experience
Years of experience in manufacturing marine sacrificial anode, mainly engaged in: aluminum alloy sacrificial anode series, zinc alloy sacrificial anode series, anti-corrosion zinc block, anti-corrosion aluminum block, marine sacrificial anode, copper casting, propeller and other marine accessories.
02 good product quality and advanced equipment
The company has mature systematic production supporting facilities, advanced production equipment and precision product testing instruments, adheres to strict quality control and provides customers with high-quality products and technical services.
03 provide you with a perfect after-sales service system
We have a number of professional sales and service teams to provide you with many intimate services, professional after-sales service team, regular customer return visits and timely solve problems for you.
Free offer of products, welcome to consult at any time, we will give the first reply.Our Email: